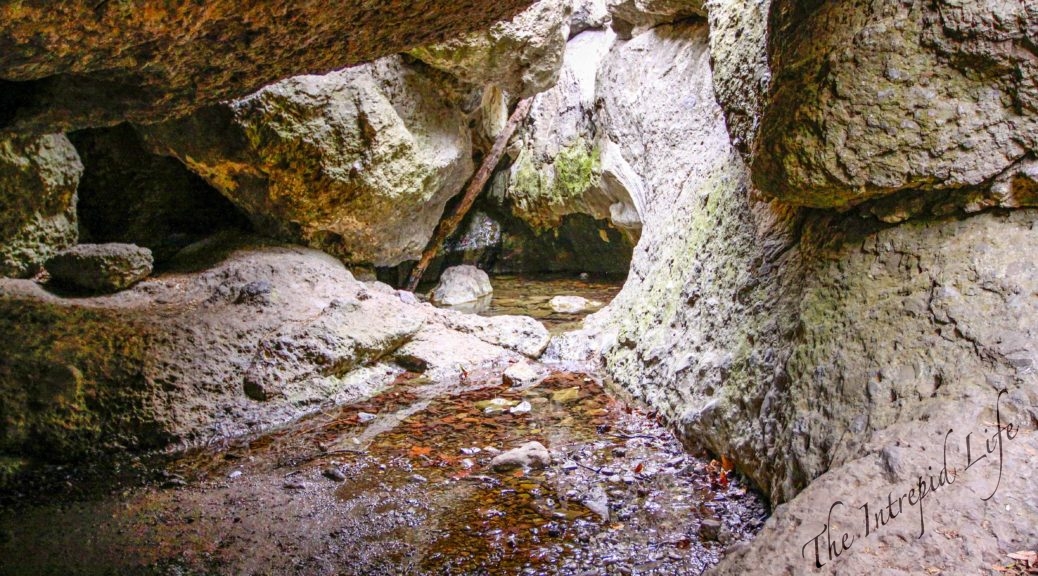 Epic Travel → North America → The West Coast → Southern California → Los Angeles Area → The Grotto
Location: Santa Monica Mountains Area, West of Los Angeles
Distance: 3 miles (roundtrip)
Elevation Gain/Loss: 600 feet
Time Required: 1.5 – 2 hours
Red Tape/Notes: No fee or permit required; for more information on the trail, hikespeak and ModernHiker both have comprehensive posts on the trail.
What's Nearby?: Malibu Creek State Park, Echo Cliffs, Hueco Wall, Point Dume, Paradise Falls
---
The Grotto Trail is a lovely little hike starting at the rim of a canyon, and descending into the canyon over about a mile and a half. At the rim of the canyon you'll stroll through lots of vegetation and greenery, and eventually the trail will lead over some pretty meadows and creek beds before getting to the interesting rock formations that signal the grotto is near. It's pretty easy to scramble down the large boulders which create the grotto, and once you're underneath, you'll find a small waterfall and a lovely pool inside the pretty talus cave. The rock formations are interesting and fun to scramble around on, but there's not much else of interest beyond the grotto, although the stream bed continues on. The return trip is (obviously) uphill, but it's over such a short distance that it's over quickly.
Epic Travel → North America → The West Coast → Southern California → Los Angeles Area → The Grotto